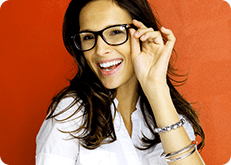 Eyeglasses & Frames
Dr. Toney Optometry assists patients in selecting the appropriate eyewear and ensuring a comfortable fit. We offer a wide selection of eyewear frames, helping patients find the best glasses for their lifestyle. As a smaller office, we provide a very personal level of care for each patient, listening to concerns and offering helpful suggestions.
We offer flexible services and a variety of products to patients who have had glasses their whole lives and to those considering eyewear for the first time. If you don't already have a prescription but feel you may need eyeglasses, we offer fast and thorough examinations to determine your needs. We can also fit you with new frames based on an existing prescription.
If you're interested in getting fitted for new eyeglasses or replacing your current frames, stop by our Batavia, IL office today or call (630) 879-1354 to get started.
Dr. Toney Optometry assists patients with selecting eyeglasses and eyewear frames and provides quality eye care for individuals and families throughout the Batavia region.
Serving patients in Batavia, St. Charles, Geneva, West Chicago, North Aurora, Warrenville, La Fox & Sugar Grove, IL and surrounding cities.